Podcast: Play in new window | Download (Duration: 32:39 — 8.1MB) | Embed
Subscribe: Apple Podcasts | Google Podcasts | Android | RSS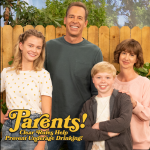 Back to school means new friends, new habits and new influences if your child's life. This makes it an important time of year to talk to your kids about family rules and your expectations about underage drinking. Studies show parents are the number one influence and reason why kids decide not to drink which is why it's crucial to set clear expectations.
KUTV 2News' Heidi Hatch sits down with guests Kristina Pexton, Family Life Commissioner for the Utah PTA and Heidi Dutson with Parents Empowered in this episode of the podcast.
The podcast is offered quarterly to help parents understand the ramifications of underage drinking, how to prevent it and how to talk to your children about it because studies show kids are listening.